What happens when a town becomes unbanked? This was the challenge faced by Cambuslang in 2018 - the third largest town in South Lanarkshire, with a population of almost 29,000 - following the closures of all three bank branches in quick succession. Getting access to cash suddenly became harder, and the closures were a cause of substantial financial hardship for a significant minority of residents.
Many local businesses also experienced financial difficulties and had major problems with getting access to alternative banking facilities. Most experienced a loss of trade as local residents shopped less on Cambuslang Main Street, and the commercial viability of the town centre suffered, threatening to undermine a regeneration strategy for the town.
Cambuslang Community Council took the lead in advocating the restoration of a banking service. The community council carried out its own research and published a report on the consequences of branch closures which made headlines in the Scottish and UK press, and its submission to a House of Commons inquiry led to the Scottish Affairs Committee launching its own report on access to cash in Cambuslang.
This evidence gathering enabled Cambuslang Community Council to apply successfully for Cambuslang to become a Community Access to Cash Pilot (CACP) in summer 2020. Cambuslang was one of nine pilots across the UK and one of just two in Scotland, each with the aim of implementing and testing different ways of improving access to cash in areas which had been affected by bank closures.
A working group of local community organisations, led by the Community Council, and a community survey of 1100 respondents showed an overwhelming demand for face-to-face banking services in Cambuslang. Working with the CACP team and the Post Office, the outcome of extensive discussion was development of the BankHUB concept. This involved the Post Office and the five banks with the most customers in Cambuslang offering their services in the same place for the first time. While the Post Office provides a daily over-the-counter service for cash deposit/withdrawal and bill payment, each of the five banks would offer account management services one day a week, taking it in turn to provide Cambuslang residents with access to additional banking services.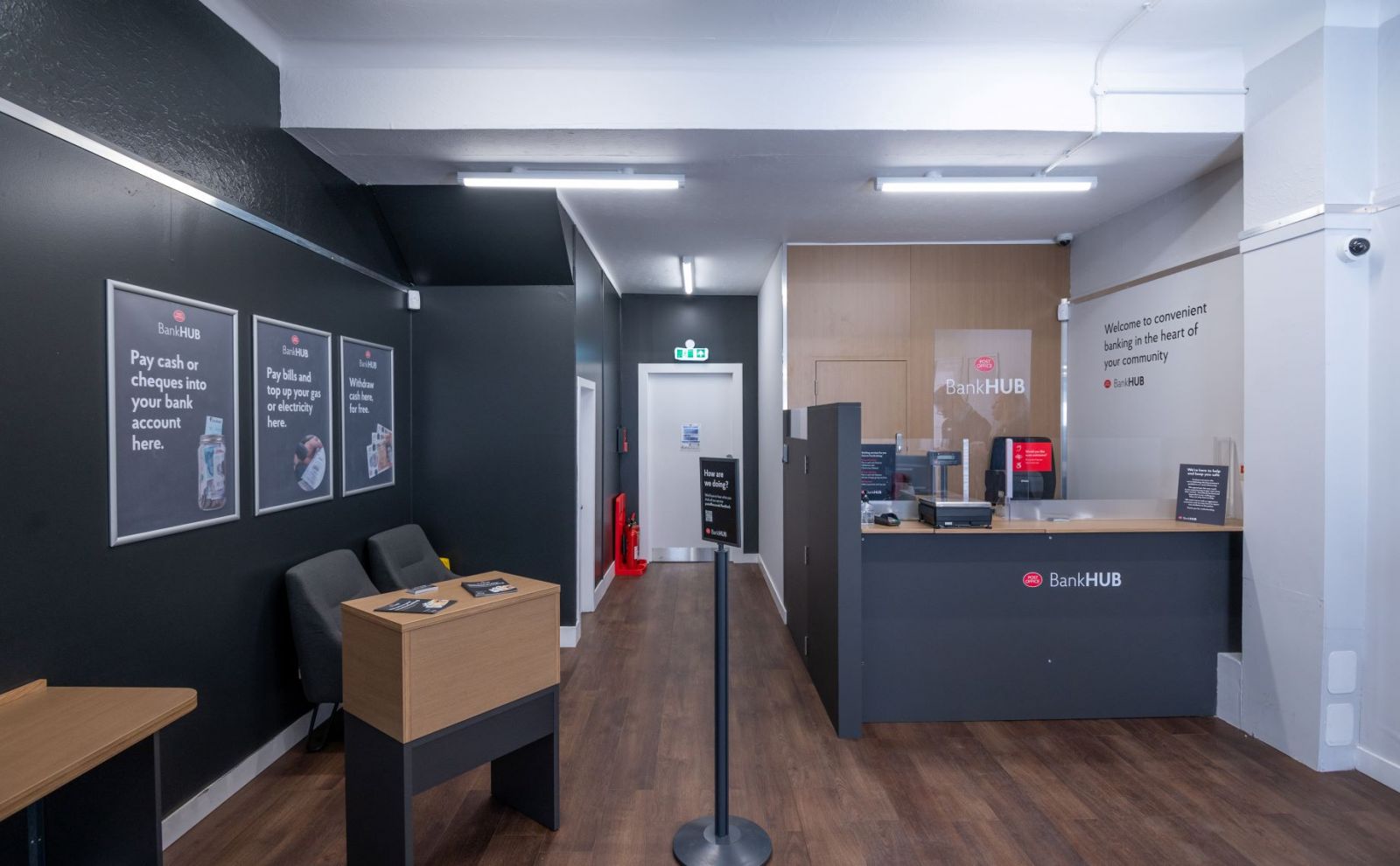 The Cambuslang BankHUB opened in April 2021 for a six-month pilot period and was an immediate success.
John Bachtler, Chair of Cambuslang Community Council, said:
"Very quickly, our BankHUB experienced high levels of use, with excellent customer assessments for the quality of service.
"The BankHUB has significantly improved local access to cash; people no longer have to travel to other towns for banking transactions and being able to conduct banking business on the Main Street has led people to spend more money in the town centre. Cash is being kept in the local economy and businesses are feeling the benefit."
The lessons from Cambuslang, and a similar pilot in Rochford, have been recognised nationally, and the Community Access to Cash Review recommended replicating the model elsewhere. BankHUBs are now being slowly rolled out elsewhere, and Cambuslang Community Council is providing peer support to share its experience of improving access to cash with other towns and communities across the UK.