The communities of Gorgie and Dalry in Edinburgh are represented by Gorgie Dalry Community Council (GDCC). GDCC Communication Officer Laura Wise, and GDCC Engagement Officer Mathew Reilly have written about how their CC has worked to tackle some of the challenges raised by Covid-19 in their communities.
Gorgie Dalry Community Council has, like many other community groups, worked hard throughout lockdown and beyond to support our community since the start of the Covid-19 pandemic. In this post we outline some of the key areas and activities that GDCC Councillors have undertaken to respond to the unprecedented situation as it unfolded, and how we have adapted our normal ways of working. Whilst at times this has been challenging, particularly to balance our own personal circumstances with often fast-changing situations, we have also been incredibly heartened by our community's consideration and efforts to support one-another, and by people's increased awareness of and re-engagement with the GDCC.
Reaching Offline Residents with Tesco Bags of Help Funding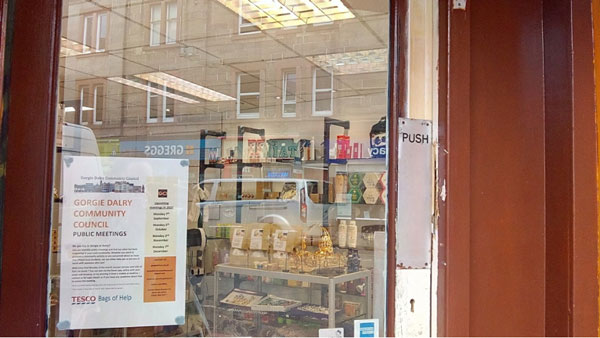 After GDCC meetings switched from in-person to online as a consequence of lockdown, we were aware that although residents could dial into meetings using their landlines or mobile phones, digitally excluded residents might not be aware of meeting dates and how to do that. As we did not want to put any of the community councillors' private phone numbers into the public domain, we successfully applied to the Tesco Bags of Help COVID-19 Communities Fund for £500 to purchase a dedicated GDCC mobile phone, 6 months' credit, and fund a poster and flyer campaign to advertise the new phone number (07835 908 453).
Since being awarded the funding, GD Community Councillors have distributed posters to shops, cafes, pubs and other businesses along Gorgie Road, Dalry Road, and Henderson Terrace, and are continuing to roll out posters across community noticeboards. We would like to thank all of the local businesses and community groups who have supported this initiative, and also extend our thanks to Connor McNally from Big Hearts for distributing flyers to residences across the area.
Consulting Locals about Spaces for People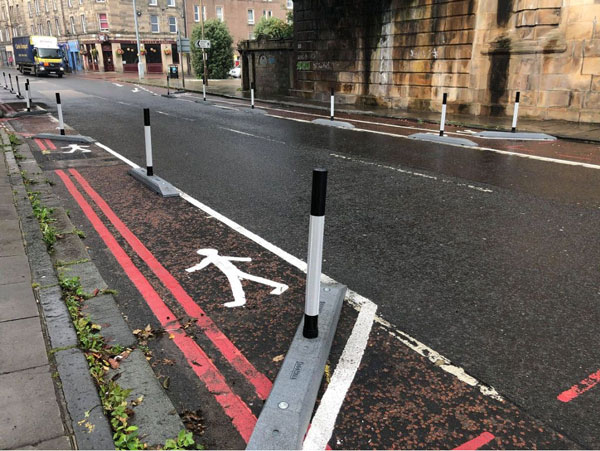 During the City of Edinburgh Council's (CEC) consultation for the new measures to be rolled out as part of the "Spaces for People" initiative, people could submit suggested temporary measures using the Commonplace interactive map.
Following correspondence from residents and discussion at our May public meeting however, before this tool was even launched, we had already decided to set up our own simple online survey, that we shared across all our platforms, as we were concerned that the 5 days consultation period proposed by the CEC was not long enough to canvas local responses.
Despite the tight turnaround (due to the CEC deadline on the main consultation) we managed to gain 74 responses to the survey in just a few days. We submitted our results to CEC on 11th May 2020. One of the key findings of the survey was that 98.6% of our 74 survey respondents thought that pavements in the area are too narrow to socially distance. We continue to make the plans and details of the scheme available to residents by actively monitoring changes and publishing regular updates on our website. We are also still consulting residents and feeding back comments to the CEC Spaces for People team.
​Extended pavement - part of the Spaces for People scheme. Credit: GDCC2 - 8<>
Setting up a 'Looking Back at Lockdown' Online Community Gallery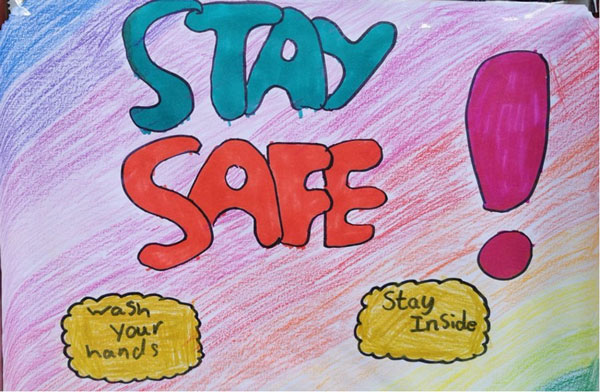 In August 2020, as we were emerging out of lockdown, we asked residents of Gorgie and Dalry to send us pictures of what our area looked like to them during the COVID-19 pandemic. Eight residents sent us their varied perspectives of life in Gorgie, Dalry, and on the boundaries of our area, including dugs "socially distancing" in Murieston Park, the Dalry Cemetery gatehouse, reduced traffic on Wardlaw Place, the Caledonian Brewery from a lockdown walk, and flowers in bloom in Saughton and Dalry Community Parks. We published these as the 'Looking Back at Lockdown in Gorgie and Dalry – Community Gallery' on our website and shared the submissions across our social media channels. Thank you to everyone who sent us their pictures!
Supporting Local Foodbanks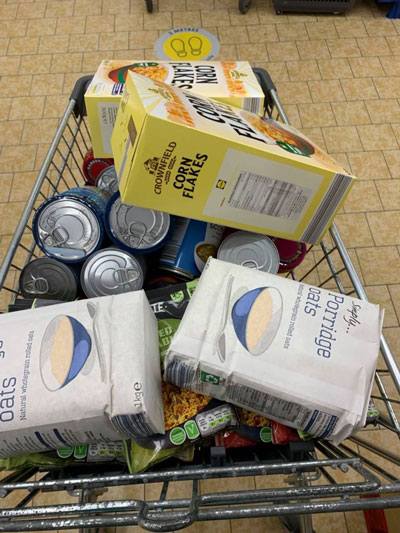 At the emergency GDCC members meeting held in March to discuss the Covid-19 crisis and lockdown, members agreed to support 3 local food banks that were distributing emergency food parcels during lockdown: LOVE Gorgie Farm, Tynecastle High School (supported by the BMC) and Salvation Army Gorgie. GDCC donated a total of £200 worth of goods that GDCC Community Councillor Moira MacKirdy delivered to the three foodbanks.
We also continue to use our social media platforms to support fundraising efforts of all local food banks and circulate requests for donations. Using our social media channels, we also received requests from residents for support with shopping and collecting prescriptions, and we liaised with local supermarkets and mutual-aid groups to ensure that vulnerable residents were receiving the help that they needed during lockdown. We would like to acknowledge the huge emergency effort from volunteers and residents across our community throughout the Covid-19 pandemic, and say a huge thank you to everyone who has stepped up to support our community at this difficult time.
Engaging with the Shop Local and #ForeverEdinburgh Campaigns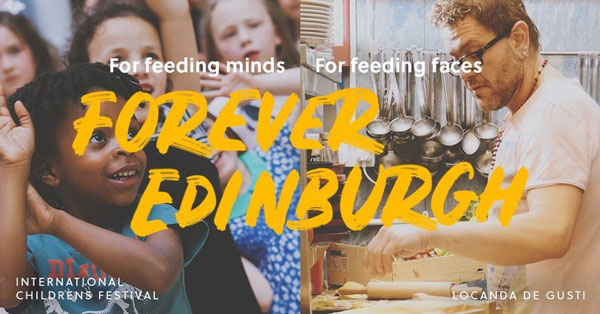 In September 2020, several GDCC Councillors attended an online meeting with Council officers from the Business Growth and Inclusion team at the City of Edinburgh Council to discuss the Council's plans for a Shop Local framework, which provides practical advice on adapting to new ways of working, introducing physical distancing, health protection measures and adequate signage (with up to date information), making changes to how payments are taken, and using digital communications and resourcing. GDCC Councillors shared our insights on what kinds of businesses are in our area, what draws people to visit Gorgie and Dalry, and gave some initial feedback on the #ForeverEdinburgh campaign and some of the potential ideas for the Shop Local framework to support the CEC in developing a framework that is relevant to the needs of local businesses in our area.
We were pleased to hear that our concerns previously expressed to the CEC that the #ForeverEdinburgh campaign had overlooked our area was being taken seriously. We continue to engage with these #ScotlandLovesLocal, #SupportLocal and #ForeverEdinburgh campaigns to champion local independent businesses on our social media channels, and have plans to develop these campaigns locally in 2021. During our days of distributing our meeting information posters to local businesses, we chatted with local business owners to make sure they know that the GDCC is here to support and represent them too, and to see how they are managing since lockdown was eased.
Reaching Out to Students during Local Lockdowns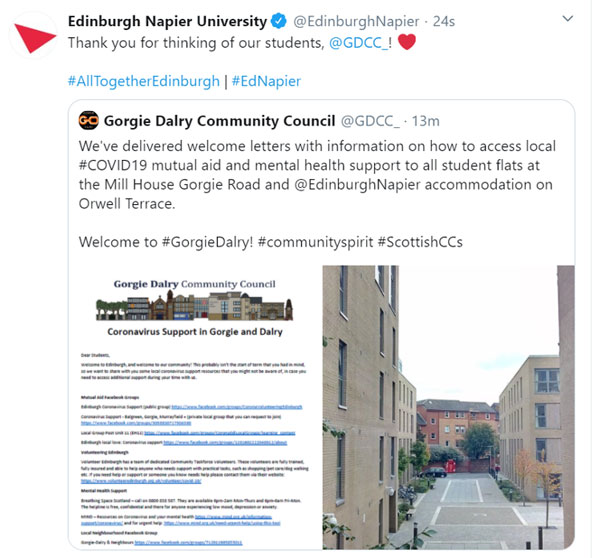 In September 2020 there were multiple outbreaks of Covid-19 across student accommodation halls at universities in Scotland, including in Edinburgh. Whilst neither of the student halls in our area have announced outbreaks at the time of writing, on the 24th of September we decided to take pre-emptive action to make sure that students as new residents knew how to access local support in case of self-isolation, or mental health support following the introduction of new restrictions for university students.
Within 24 hours, thanks to the support of local printing business the Hotspot Internet cafe on Gorgie Road, the Tesco Bags of Help funding, and with keen responses from residents in the Coronavirus Support – Balgreen, Gorgie, Murrayfield + Facebook group, GDCC Councillors delivered welcome letters with contact information of mutual aid groups, Volunteering Edinburgh, and mental health helplines to all flats (approximately 70 flats) in the Mill House accommodation on Gorgie Road, and the Edinburgh Napier University accommodation on Orwell Terrace, and also to the Nido student accommodation on West Park Place and Student Cribs accommodation on Morrison Circus.
Edinburgh Napier University later tweeted their appreciation and thanks, and the initiative was welcomed by Edinburgh residents and a neighbouring community council on social media.
Accelerating our Plans to Refresh Our Communications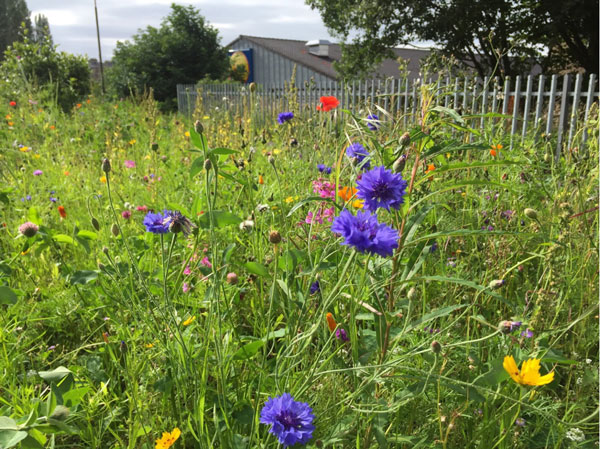 Prior to March 2020 the GDCC website and social media channels were primarily used for publishing meeting agendas and minutes, and information regarding planning applications and the Christmas lights switch on. We accelerated this planned revamp in response to the Covid-19 crisis, and since March 2020 we have undertaken a complete revamp of the structure and content of the GDCC website, to make it a one-stop shop for residents and visitors interested in our community to access information, links to support services, to participate in surveys and consultations, and to showcase the positive aspects of living in Gorgie and Dalry.
During lockdown we also began featuring guest posts on the GDCC website, that bring and share new perspectives on life in our community, and we welcome submissions! Local resident and nature lover Juliet Wilson wrote about 'Discovering the Nature of Gorgie and Dalry during Lockdown', in which she shared the magic of discovering the drama and diversity of nature right on her doorstep during lockdown. In 'Dalry Community Park: From Train Station to Local Greenspace', GDCC Treasurer Alex McKendrick reflected on the history of community efforts to save Dalry Community Park, and what the Roseburn to Union Canal Active Travel Route scheme means for this valued local greenspace.
Looking Forward to 2021
2020 has tested us like never before, but we have been really encouraged by the community response to our activities and efforts this year. At the GDCC AGM in October we presented a list of potential plans for the rest of 2020 into 2021, that take into account continued restrictions, and having to adapt to constantly changing circumstances. Crucially, the Gorgie Dalry community has pulled together during a time of crisis, and we hope that this newfound level of engagement with the GDCC continues past this current crisis.
To get involved with our plans for 2021, read our full Engagement Report below, or let us know your ideas by emailing gorgiedalrycommunitycouncil@gmail.com