Recognising excellence, innovation and outstanding achievement in nature conservation, the ninth annual Nature of Scotland Awards co-sponsored by Scottish Natural Heritage are open for nominations and applications until 1 June.
Entries are being sought in nine categories: Coasts and Waters,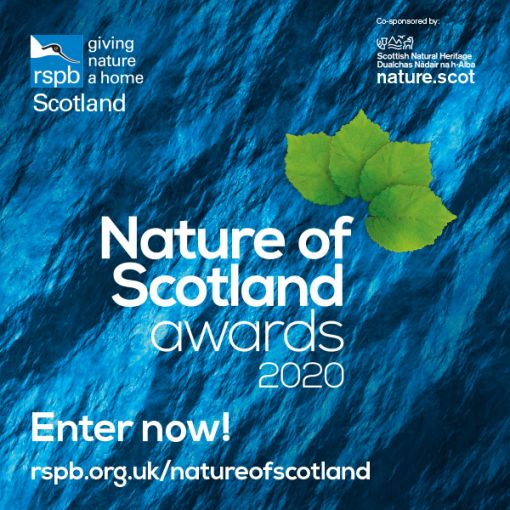 Conservation Science, Community Initiative, Forest and Woodland, Innovation, Nature and Climate Action, SNH Business, RSPB Species Champion and Youth and Education.
New this year, the Nature and Climate Action Award recognises the link between the crises facing nature and the climate and the creative Scottish nature-based solutions making a critical impact. Individuals, projects or organisations who are nominated should demonstrate the clear and definitive steps they are taking to save nature and mitigate or adapt to climate change. The second new category, the Forest and Woodland Award will recognise those who place nature and wildlife at the heart of their sustainable forest and woodland creation and management activities and is seeking applications from wildlife-friendly foresters, communities making the most of their local woodlands, producers, farmers and other land managers exploring innovative new approaches which bring benefits for wildlife and people.
Coastal communities in Angus have been working together since 2012 to understand and halt the sharp decline of one of our most iconic coastal species – the small blue butterfly. This collaborative community conservation project has provided a future for a species on the brink and won them the Community Initiative Award in 2019. In the same year, The Children's Wood and Meadow Outdoor Community Centre was highly commended for offering a place for local people to experience and enjoy nature in the heart of Glasgow and successfully campaigned to save this special place from development. If you are involved in an outstanding community-based initiative that benefits nature and acts as inspiration to others then we want to hear about your achievements.
Let's celebrate those going above and beyond to support our precious natural heritage. Free to enter, nominate a person, project, group or business dedicated to supporting our environment or submit your own application and tell us what you're doing to support nature!
All those who apply will be invited to attend an evening reception at the Scottish Parliament on Wednesday 2 September where the Nature of Scotland Awards shortlist will be unveiled. The winners will then be announced at a celebratory Presentation Dinner at the Edinburgh International Conference Centre on Wednesday 25 November with successfully shortlisted entrants receiving two complimentary tickets to the prestigious event.
Find out more about the awards and submit your application by 1 June by visiting rspb.org.uk/natureofscotland.