The Community Climate Asset Fund (CCAF) is a £3.5 million Scottish Government fund, administered by Keep Scotland Beautiful, and provides capital funding for community based organisations to tackle climate change.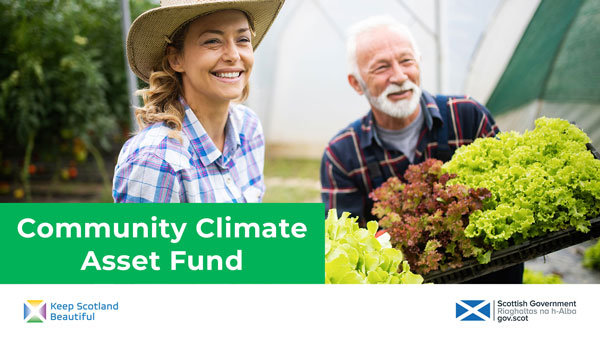 Building on the invaluable contribution that community-based organisations are making to Scotland's COVID-19 response, the CCAF will help them to play a prominent role in the green recovery.
Capital funding is available for a variety of items which will help community-based organisations to tackle climate change as we accelerate our just transition to a net zero society.
The fund is designed to support communities to reduce usage of petrol and diesel cars, cut waste, grow local food and reduce emissions from community buildings. Fundable items include electric vehicles, bikes, energy efficiency measures in community buildings, polytunnels and raised beds, community fridges, tools/repair equipment and wood fuel equipment.
Grants range between a minimum of £1,000 and maximum of £100,000, with match funding a requirement for grants over £10,000.
CCAF applicants need to demonstrate the climate impact and community benefit of the items they are requesting. They must also show that their proposal is deliverable and how they'll maintain CCAF funded items.
To be eligible to apply for any funding from the CCAF an organisation must be Scottish-based, community focused, operating on a not-for-profit basis and legally constituted.
Eligible organisations include Registered Charities, Community Councils, Development Trusts, Schools and Nurseries (registered as not-for profit and are eligible to apply for food growing projects only, up to £10,000 maximum) and Community-led housing associations (for food growing projects only).
The application deadline is midday 9 November 2020, but early application is encouraged as funding will be allocated to eligible applicants on a first-come, first-served basis.
Find out more at Keep Scotland Beautiful's website.